Sunlike – UART interface LFT-LCD Modules and Rotary encoder with LCD Switches (03/2023)

We are thrilled that our manufacturer Sunlike Display is our co-exhibitor during the show.
Sunlike created the Editing Software for Programming, Control Configuration and Interface Design. With this GUI designing tool, the users can save much development time. Simply connect SUNLIKE UART interface TFT LCD display to the PC, and design your own GUI easily. SD card is optional.
One example of the UART interface LFT-LCD Modules: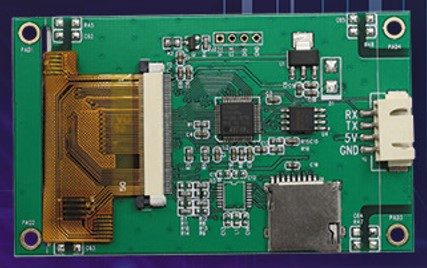 AMU-320480-035NP-E
Size: inch: 3.5
Display: format: 320 x 480
Model Size: W x H (mm): 54.66 x 96.94 x 10.90
Active: area: 48.96 x 73.44
Touch Panel: Capacitive
Sunlike also developed the new product line of Rotary encoder with LCD Switches SRB2. The general description of this line is as follows:
Display
Size: 1.28inch Circle TFT
Driver IC: GC9A01
Interface Type: SPI (Serial Peripheral Interface)
Power Supply: 3.3V
Resolution: 240RGB(H) x 240(V)
Display Color: Full Color, 262K(max.)
Luminance(cd/m2): 400(cd/m2)
Backlight Type: White LED
Encoder
Transmissive Optical Sensor
Power Supply: 5V
Output Signal: HIGH & LOW
Resolution: 36 step per revolution
Operating Life: C.W. 100,000 cycles min. & C.C.W 100,000 cycles min.
Switch
Contact Rating: 50mA, 12V DC
Resolution: 0.5±0.3mm
Operating Life: 100,000 cycles min